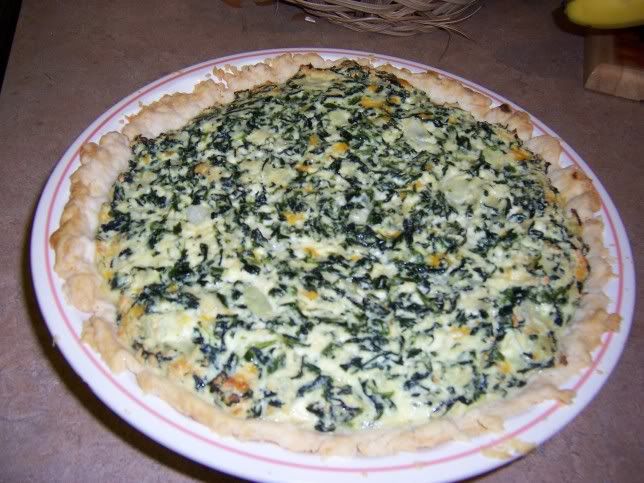 I originally posted this two years ago in LiveJournal. This was the first dish I made for Kaydee upon her moving to Victoria this September. I actually improvised and used a cake pan for the baking dish, but I cannot insist enough that if you do not like ridiculou
sly thick crust, please use a real pie pan.

Also, it lasted forever. I was eating slices of the pie-made-in-cake-pan for over a week and it still tasted amazing.

To make the crust, mix together

six tablespoons butter or margarine

with

one and a half cups flour

and

four tablespoons milk, water, or buttermilk

. Roll into circle. Press into pie pan. Set aside.

Alternatively, you could use pastry, which is what my momma does. It makes for a flakier, more decadent crust.

Preheat your oven to 375. Melt about

a tablespoon of butter/margarine

in a frying pan, and saute

one cup of chopped onion

for five minutes. Add

one pound spinach

[stemmed and chopped],

half a teaspoon salt

,

a dash of pepper

,

one teaspoon basil

, and

garlic

to taste [I use two cloves]. Cook over medium heat until spinach is wilted.

In a bowl, mix together

one pound ricotta cheese

,

three eggs

,

three tablespoons flour

, and

half a cup grated sharp cheese

. Add the mixture from the frying pan, and spread evenly into pie pan.

Katzen recommends covering the pie with a topping of sour cream, then dusting with paprika. I have never done this, nor has anyone I know, but you could always try it.

Bake for 40-45 minutes. Please, let it set for a few minutes after you take it out of the oven; otherwise you will be serving glorified scrambled eggs with a delicious crust. This tastes delicious hot, cold, or at room temperature.